by Jas Faulkner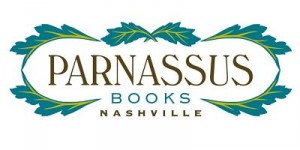 Tucked away in a strip mall at an upscale shopping area in West Nashville, Parnassus Books looks like a throwback to an earlier era. It is a book store that actually sells books. The walls are covered from floor to ceiling with shelves full of them. Long tables are covered with current releases and evergreen staff favourites. There is no gift section taking up valuable floor and shelf space. At first blush, it might seem that this is an institution of long-standing, a holdout in the era of big chain stores and deeply discounted rivers of reading matter. It is the answer to every fond wish made by bibliophiles who wander among the novelty pens, blank books and coffee mugs in search of that hidden gem of a novel or sharp recollection of a life observed and preserved, waiting to be relived by the next person to flip the pages.
In truth, Parnassus is a relatively new venture that opened its doors in 2011. While still in the planning stages in late 2010, it caught the attention of everyone from book business pundits to the mainstream media. This is due in part to the celebrity of one of the proprietors, Ann Patchett. While Patchett (and co-owner Karen Hayes) may lend the store a degree of influential elan due to their connections within publishing circles, it is not the sum total of the business, nor is it the sole reason this independent book store might very well succeed.
The business is devoted to people who love books and who are moved by wordcraft. To those who crunch numbers and think only in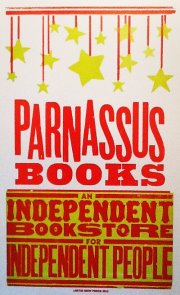 terms of units moved and net sales of licensed tie-in products, the notion that a store full of ideas cradled in paper leaves would survive might net a shake of a head and a rude chuckle. What a quaint idea, especially in 2012. Maybe. The very existence of Parnassus might be the result of an act of mercantile regression. It is also an act of audacity that is being applauded by book lovers in Nashville, a city that used to have independent and small local family chain book stores that numbered in the double digits.
Named for Mount Parnassus, the heart of arts and letters in Classical Greek mythology, the store's mission is prominently displayed on its home page:
We will be Nashville's Parnassus by providing a refuge for Nashvillians of all ages who share in the love of the written word. We will partner with and support local writers and artists, businesses and institutions. We will strive to bring readers the best books in literature, non-fiction, children's books, local interest and the arts in both printed and digital formats. We will provide venues for writers to connect with readers, and readers to connect with books. By doing this we hope to complement and add to the rich cultural character of the Athens of the South.
The website bears this out, with a calendar stuffed with events, a books blog written by Ms Patchett, a companion site for young readers and a page devoted to the carefully selected and quite well-read staff. The emphasis is on literary Nashville, but the site has appeal for any book lover.
At a time when most celebrity business ventures seem to be devoted to the cult of personality, Ms Patchett has chosen a different direction, one that might very well prove to be the inspiration for more people with the means and influence to offer readers a quiet, well-lit haven and the sweet serenity of books.