by Jas Faulkner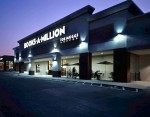 The love of learning, the sequestered nooks…
I wanted to find a place to sit and look through the books that intrigued me while browsing the stacks.  My choices were pretty limited: Taking the armload of books I was deciding upon to the coffee shop area was a non-starter. I wasn't about to risk messing up a book. That left the two quartets of big leather-ish cube lobby chair-like things on either side of the store.
The set closest to the fiction titles was occupied by a late teen/early twenty-something couple.  She was straddling his lap as he groped her and they furiously sucked and chewed on each other's faces.  Yuck and no.  Sitting at the other set of chairs were two men.  One was reading a magazine and the other was talking quietly on his phone.  Four complete strangers sitting in a cluster of chairs reading is not unheard of, so I took a seat, set my stack of books on one arm and proceeded too look through my stack to see what would be going home with me and what would be returned to the shelves.
I was interrupted a few minutes later by someone tapping a finger on my stack of books to get my attention.  A man had taken the seat next to mine.
"Yes?" I said.
"Your books are on the arm of my chair and I want to use all of my chair."
"Sorry about that," I said lightly as I moved them to the other side of  my chair and then got back to culling through the eight books I'd brought with me.  In my peripheral vision, I could see that he sat stiffly with his arms close to his sides for the rest of the time I was there.  He never touched the arms he wanted unlimited use of.   The trio began an animated discussion of the vagaries of various propane cookstoves.  Soon they were joined by another man.  Someone made a pointed remark about his needing a chair and offering his own.  Things got very quiet right after that.  If I was a betting woman, good money would have been on the four of them staring at me while my nose was firmly planted in a book.
I was down to two books to scan through  and made the decision to soldier on, leaving my chair once I'd read the jacket flaps and a page or two from each of them.  When I was finished,  I went to return the rejects to their respective shelves. Kevin, my Boy Friday and partner in crime, tut-tutted at me as we walked through the shelves.
"I hate it when you do stuff that makes me feel like I have to watch you."
"You worry too much," I said as I returned a copy of a book about atomic tourism to the remainder table.
Refugees or Bards in Disguise?
Kevin is like  many Nashvillians.  For him, the idea of homeless people settling in anywhere outside of the confines of the downtown area is still unheard of. He is shocked when he sees people like these men, backpacks parked on the floor, with a stack of newspapers and magazines at their side as they occupy remote corners of larger book stores.  From a social worker/social scientist's viewpoint, this particular development in the evolution of public space makes sense.  Libraries and malls are often patrolled by security personnel.   'Nearly every restaurant, whether it's haute cuisine or the golden arches, has some kind of policy in place limiting the amount of time one can spend just hanging out.
It is ridiculously easy to disappear into a big box chain bookstore.  Historically, the search for a good read has been a great equaliser when it comes to who walks in the door.  Beyond the usual shoes and shirt policy, there is little in the way of a dress code to determine the bona fides of the visitors.  The person who walks through the doors wearing a clean but worn clothes might be homeless.  He or she might also be an artist who prefers to be comfortable when browsing, so a trip to the bookstore doesn't necessarily require pulling from the "clothes with no paint on them" side of the closet.   The ratty, sartorial nightmare standing in front of the Vonnegut titles might be a writer who has spent the better part of the last few days racing a deadline.  To them, any consideration beyond "clean and successfully preventing public nudity" is a needless detail, superfluous filigree for those who have the time and inclination to care.
Staying alive in a field that has been described by market experts as declining means that chains like Books-A-Million cannot afford to create an environment that potential paying customers will avoid rather than browse under the suspicious gaze of sales staff and management.  The fragile margin of profitability dictates that everyone who walks in must be treated as a contributor to the future life of the store.  The result is that paying customers sometimes find themselves competing with homeless people who simply want escape from the extreme temperatures, homeschooling parents who are trying to shave expenses by teaching their children with the merchandise on the shelves and others who might have found their needs met in very different kinds of spaces in previous decades.
The headlines read, "These are the worst of times."/ I do believe it's true. 
The Books-A-Million located at 1789 Gallatin Pike inNorth Nashville is, at best, a shadow of the sprawling retail space designed with book  lovers in mind  a little over eighteen years ago.   It was a welcome addition to an area that boasted a disproportionate number of  stores offering the latest movies and music and almost no new books.  The first iteration of  B-A-M occupied a space that had once housed a largish Walmart and used every inch to create a sales floor for readers that put some of the more luxe establishments in Davidson County to shame.
The original layout included niches with chairs and tables in each section that reflected the type of books nearby.  The art books were housed in an area that had floor lamps, big leather chairs and heavy coffee tables, the poetry and drama section was all overstuffed and shabby chic and so on.  The "Rivergate BAM" as it was called, became the place for anyone who wanted to attend a poetry reading or host a writers' group or simply get lost among the Byzantine loveliness.  People who remember the old Books-A-Million do so fondly, as it was designed with comfort in mind, one of the few places where long visits seemed to be encouraged.
All of this would change when the US economy took a nosedive in the new century. Rivergate B-A-M closed for what was originally supposed to be a few weeks but actually stretched into months.  When it reopened the following year, the book store  barely resembled the place that had become a gathering spot for mothers to pore over magazines and men who wouldn't be caught dead in a Starbucks to get their latte fix.  Now half the size of the original and brightly and lit by banks of fluorescent lights, the uniform rows of shelves more closely resembled every other brick and mortar chain in Nashville.   The coffee bar, once a comfortable centerpiece in the front of the store, was moved to one side.  Smaller bistro tables were set apart from the store by a rail and for a short time there was a big, red, retro booth that was sometimes filled with study groups or bickering writers or the occasional suburban matron coffee klatsch.
In spite of the reduced area, abbreviated comfort and loss of  discrete genre sections that could qualify as stores within stores in their own right,  longtime supporters persevered for a while.  Adapting to the changes that made B-A-M about as comfortable and welcoming as a bus station, they kept coming and many afternoons there are still groups stopping in for coffee and few moments to chatter while looking over the latest bestsellers.
That was then, a slightly more recent then, and this is now…
The last chance bargain racks are now situated on rolling library carts near the front door.  The eccentric collection of shelf-damaged and remaindered  books that put the odd in oddment in the bargain section at the back of the old store is all but gone, replaced by row after row of cookbooks, right-wing rants, and every variation of Jane Austen chick-lit and paranormal romance imaginable.  The suburban matrons wander the shelves as teens look for a good book.  The homeless, seemingly ever present, mingle.  They are distinguishable to the practised eye by the stacks of magazines they gather from the racks in the back but never seem to read.
I talk to a few people who were devoted customers of the old B-A-M and who now frequent the newer Barnes and Noble located in a bedroom community ten minutes north of Rivergate.
"I feel terrible saying this, but I really don't want to go some place and feel like I'm interloping on someone else's living space when I'm trying to buy a book."  Angela J., a 42-year-old high school teacher glances around at the coffee shop in the Hendersonville, Tennessee Barnes and Noble.  The decor echoes every other B&N in the Middle Tennessee area.  "It's unnerving and to be honest, I know that at least half of that is my fault.  They get hostile because I'm in there to spend money and then go home.  I feel uncomfortable because I feel bad that they don't have the money to spend or the home to go to." I ask her about hostility and her response is similar to everyone else's who agreed to talk about this issue.  We have all heard the loud conversations about women who use and abuse, the litany of their sins recited as both an intimidation tool and a warning to any female foolhardy enough to approach.
I feel for the Angelas in my community who think they must do their browsing and buying elsewhere.   As she admitted, the problem goes both ways.  some of the intimidation that happens is a product of social conditioning.  Women in the Southeast are imprinted from an early age to "keep sweet" and be conflict avoidant.  At the same time, someone who has been homeless for even a short time has also been exposed to people who are angered by their very presence.  Another informant from this story was hostile from the very beginning.
"How dare they?" fumed Becca, 38, a registered nurse.  "My money pays for the books and magazines, the lights and the seats they take up.  Things that, by rights, I actually have invested a share in and should be able to enjoy without feeling the need to compete just to sit down and look at a book!"
I understand her frustration.  I also see the point of the management at B-A-M, who have chosen to be compassionate.  This situation begs the question of whether there is truly a difference between donating to the kitchen or shelter that minister to the homeless or choosing to buy a book from a store that offers homeless people a degree of respite. The kitchen or shelter is comfortably out of sight and mind beyond the envelope and the check.  Supporting B-A-M means an occasional encounter with someone who benefits from my choice to buy a book there.  In the end, I see what they do, intentionally or not, as an act of social justice and my support of their act   of social responsibility.