Craig Stark of Bookthink.com has put together a nice post on buying and selling books by Easton Press, here's a sample.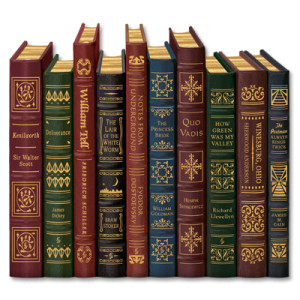 So, let's say you've gotten in too deep on some Easton's, maybe paid $10 apiece for a box of ho-hum titles from the 100 Greatest Books Ever Written series, and closed eBay auctions suggest that you will be working hard just to get your money back, even though yours are in fantastic condition. If this is the case, would you be interested in a proven marketing method that will increase your outcomes to $25 to $40 for common Easton titles?
You don't have to take my word for it; if you subscribe to an historical pricing service like Terapeak, Worthpoint, etc., you can watch this happen daily. A title that goes down again and again for $10 to $15 on eBay occasionally sells for much more – as much as $40 or more. On eBay. Sometimes the reason is obvious: The book that sells for $40 is still in the publisher's shrink wrap. Easton collectors will routinely pay a premium for books in this condition. But let's take a lesson from this. If your copy isn't in shrink wrap, it's quite possible that it's in an equivalent condition to a shrink-wrapped copy notwithstanding, i.e., flawless or nearly so. If so, your task becomes one of convincing potential buyers that the absence of shrink wrap doesn't reduce its value. How?
First, let's get something straight immediately: Do not list Easton's on eBay at auction, especially at a low starting bid. [continue here…]