by Jas Faulkner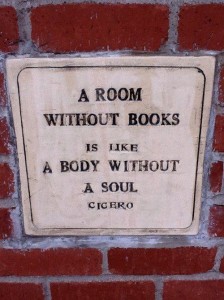 Some fans refer to it as a grown up version of the big, thick Wish Books that arrived in the mail sometime around Thanksgiving (in the US.)  Other followers use a racier term for the category of websites and social media gathering places where people share ideas and pictures about their passion: shelf porn.  The names really don't matter.  The rows by any other names are still breathtaking in their creativity and their ability to speak to the deepest wishes of book lovers.
They give us images of  the grown-up versions of dream houses that align more closely with our desires than the prototypes we were offered as children.  Barbie's dream house, the Brady's split level ranch, and the Huxtable's brownstone had beautiful furnishings and rooms any kid should envy.  The one thing that made them seem lifeless was the absence of any kind of library.  Dream homes should have dream shelves.
For many of us, the pictures of vast, ornate  libraries make us forget to breathe. Our eyes dilate and our mouths go dry from pleasure as we take in a world of books where their beauty is fully appreciated.  Those eccentrically arranged shelves and lovely, comfortable places to  take in the contents of whatever our greedy literary magpie's eye caught while walking through those stacks fire our imaginations.  It is the same kind of wish fulfillment that makes every bibliophile gasp when the Beast in Disney's version of La Belle et la Bête gives his love interest a library of her own.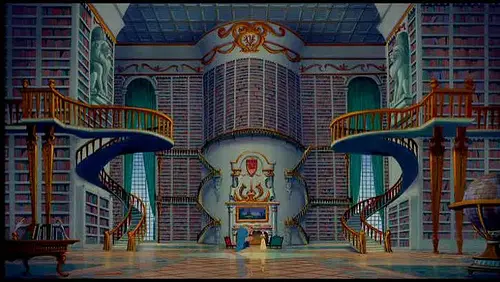 A simple search using the term "bookshelves" will usually yield page after page of fairly uninspired sales outlets, many of which offer minor variations of the same thing. To step into the world that goes beyond the tame wall of cases or obligatory shelves here and there,   you will need to go to Google or Yahoo and take a step into the dark side.
Type:  b-o-o-k-s-h-e-l-f – p-o-r-n
Hit enter.
Is this what you were looking for?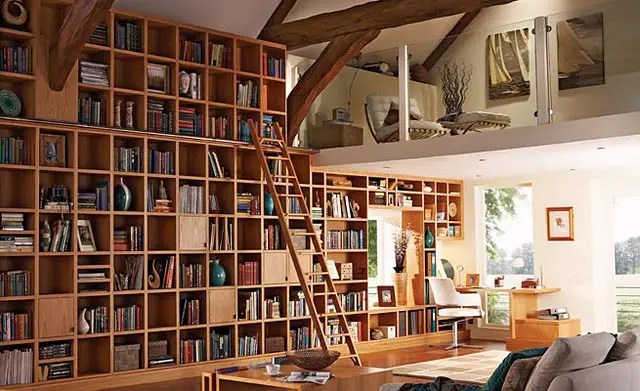 Look further and you will find shelves made from all kinds of materials, upcycled shelves made from cars and luggage and old phone booths, shelves made to look like animals and function as furniture and stairs and even a TARDIS that will take you on your own travels through time and space.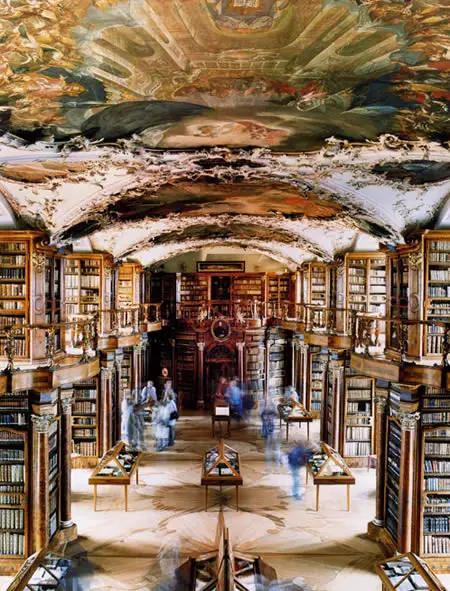 For those of you who are timid souls and need a Virgil (or maybe a Randall) for your Dante, here are a couple of breadcrumbs to get you started down the rabbit hole of glorious, gorgeous book and shelf art: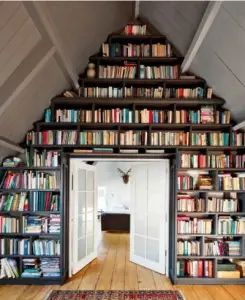 You're dying to click and go, aren't you?  Can you sit tight for maybe two hundred more words?   Thanks!
The next time you're on Facebook giving your friends virtual fistbumps for running two
miles and cooing over the cutest babies in the world, take a moment to visit a couple of FB pages that aggregate some of the best book-related art on the internet:
Title Wave  is a a lovely escape hatch into a world where books are the stuff of stars.  They act as cerebral DNA that moves every aspect of life.  This is a website built by people who love books as much as you and I do.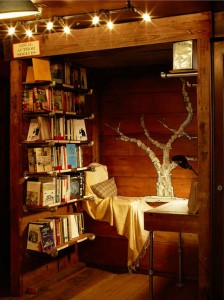 When you can tear yourself away from the rich archive of libraries, artful library design and architecture, pay a visit to Books Are Magic.  This page has a wealth of literary humour, quotes and art that will tickle and inspire you to read and write more.  This is the Facebook page for the Books Are Magic site, Vidya Ravi's charming book blog.
You're fidgeting.  I can tell.  You're dying to go surf those pictures of millions of books and the ingenious ways people store and display them.  Fine. Go.  I'll be here catching up on my reading.