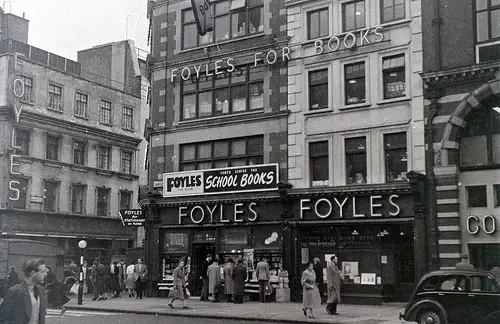 You might think that a hundred year old bookshop that has recently experienced 20% annual declines in sales would consider packing it in. With the tremendous acceleration in the growth of e-book sales, are most old established bookshops in peril?
Instead of rolling over and playing dead, the venerable Foyle's is moving into a beautiful new flagship shop. Instead of packing it in they are packing the books, for a move down the street.




From the Guardian,
"Even if there is a continued gradual migration from the physical book to the ebook and from bookstores to the internet there will still be a major market for physical books from physical stores and our ambition is to get a larger share of what might be a smaller market," he says. He believes publishers are on the side of Foyles and other independent bookstores as a viable alternative to the power of Amazon and the supermarkets.

Foyle, who owns 65% of the business, with the rest shared between other family members apart from a 10% management stake, admits there are other risks in the move. Some customers fear Foyles' quirky magic will be lost in the modern building. Foyle counters that customers also worried about the changes he implemented when he first took over his aunt's bookshop, but the result of making things cleaner and easier to find brought better sales.

His aim this time is to give the store bigger draw power with services that cannot be emulated online. "People are not going to make the journey here unless they think it will be worthwhile. Why do people go to Harrods, Fortnum & Mason or Hamleys rather than the internet? Because they think it is going to be an experience." Foyles has an online store, but it makes up less than 5% of sales and the retailer recognises its strengths lie in providing a real alternative to Amazon's impersonal efficiency.