The days are hurtling by as I proceed toward my mid-October opening, leaving me exhausted at night until about four a.m., when my panic alarm rings and I find myself wide awake and unable to sleep. What keeps me up is a long list of unmade decisions: the final design of the store's logo, the evaluation and purchase of inventory software (or whether to open without any), the choice of credit card processors, advertising options, like whether to buy time during the Super Bowl…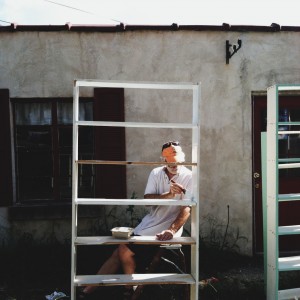 Meanwhile I grind away at the books and shelves. Early in the week, I finished the demolition of a private library, which is now boxed and housed in my storage unit. The seller's home had been condemned – it's being replaced by a park and some new condos – so I had the privilege of ripping the bookshelves off the walls and loading them into my truck, and then tearing the front porch apart to back my truck and loading ramp right into the front door. That took two days, with more help from my friends. Later in the week I devoted myself to getting the shelving ready for books, and reducing the mountains of boxes that loom over me.
On Friday I lined up 22 wooden shelves in the driveway beside the store and, with my daughter Bailey and her friend Emily, started painting. The shelves are three feet wide by six feet high and each holds 192 paperback books. Most of them are destined for one room, the Doris Betts Reading Room. We're planning on naming each of our five rooms for North Carolina authors. If you're not familiar with Betts, look for her books; she died just this year. I finished painting today and began the carpentry work necessary to restore the shelves to usable condition, including, finally, screwing the shelves into the walls. For the first time, I can envision how the store might look without boxes everywhere.
The logo remains unresolved. Our designer came up with several agreeable choices, and we had nearly made the call when our friend, an artist, came by. What followed was predictable. We showed him the logo and, whoosh! A gust of creative magic hit our prospective logo and with about three minutes of sketching, the logo was completely revised, leaving us further still from a final decision. Incidentally, the artist was visiting to assess the possibility of painting a mural on the store's north exterior wall. The logo work was a digression; as for the mural, that seems like a great possibility. The artist, who is celebrated in nearby Chapel Hill for his many iconic murals that appear all over town, has some ideas for our store and is available to take the job. And our town, Pittsboro, has just announced a grant program for improving the facades of downtown buildings: $3,000 if they like your idea. My wife is writing the grant proposal now.
On Tuesday I have a date to research the competition with my friend Dennis, my old partner in bookstores. I don't really mean competition, since these stores are 20 miles away and they're both stores I have loved for many years. But I need to start understanding the local market. For instance, my first edition of Albert Camus' A Happy Death may be listed at $50 to $75 on the internet, but I suspect I will be lucky to get half that in Pittsboro. What are literary first editions selling for in Chapel Hill? Or what about The Children of Dickens illustrated by Jessie Wilcox Smith; are there children's book collectors nearby? And which sections are overflowing with books, including multiple copies, and which sections are thin? The thin sections are the ones I need to concentrate on. And, of course, do they have circus books? Perhaps next week I'll be able to report on book market conditions in central North Carolina.