Let's talk Bridgerton or, more appropriately, let's talk historical romance. Unless your life has consisted of largely allowing popular tv shows to pass you by, then you're likely aware of the popularity of the Netflix series Bridgerton. Before this was a wildly popular tv series, it was a book series by the brilliant Julia Quinn. The first book is titled, surprisingly not Bridgerton, but instead The Duke and I. 
Breaking the Stigma
When it comes to historical romance as a genre, there was always this stigma that it was only for older women curled up in corners with the books hidden away. Can we talk about the covers! I personally love a cheesy '80s style cover with the flowy hair and dress and the strong man. I think they're fun, but I do recognize how that could turn people away from the genre as a whole. 
How does all this tie into Bridgerton? Well, that's simple and something that I personally have noticed. When it comes to the popularity of this tv series, it has caused an uptick in popularity in the historical romance book genre as a whole. To be fair, Julia Quinn was a well-known name in the historical romance genre for a good while before her book series was adapted. One could argue that this adaptation brought historical romances to a new generation. Yes, the majority of people who read them are usually women of a certain age, but more and more 20- and 30-somethings are gravitating toward the category as well.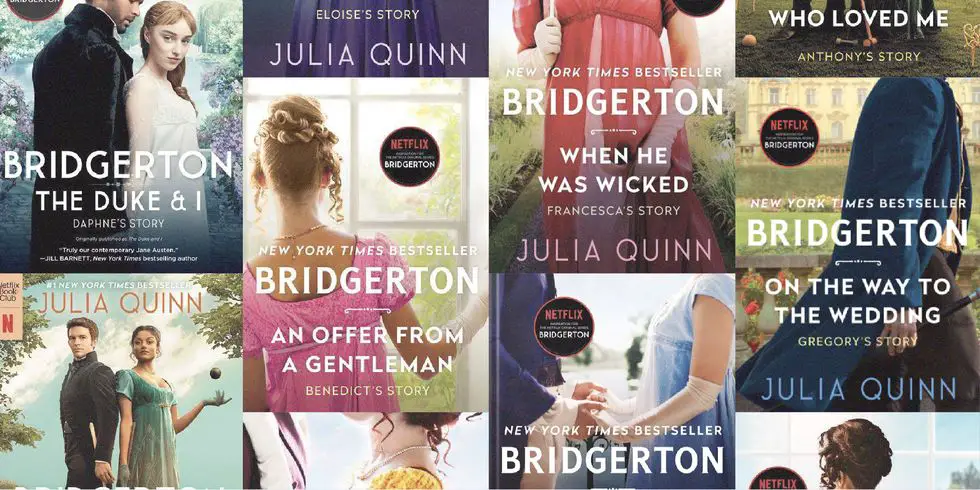 When it comes to historicals, the formula is rather simple, starting with someone of a higher class, usually a duke or a lord and a lady. A courtship will start and then we have the rising action and climax before the falling action. What is the draw to historical romances if the setup can be the same as any other romance? I personally feel it is the time period. 
Historical romance books can take place in times that span the past few hundred years, going back to the Viking era. The most popular ones I have seen are the Highlander romances, which I do believe the popularity of Outlander can be thanked for that. Then, Regency Romance, along with the Gilded Age Romance. Of course, there are others, but I do believe these are arguably the top favorites. 
When it comes to the Gilded Age romance books, the rise of that popular subgenre of historicals could possibly be likened to the famous series Downton Abbey.
Regency-Era Books
However, for the sake of this article, we shall stick with Regency-era romance books. What is the Regency era? So glad you asked. The time period we know as the "Regency" is the period within the United Kingdom between the 1810s and 1820s. Prince George IV reigned in the stead of his father, King George III.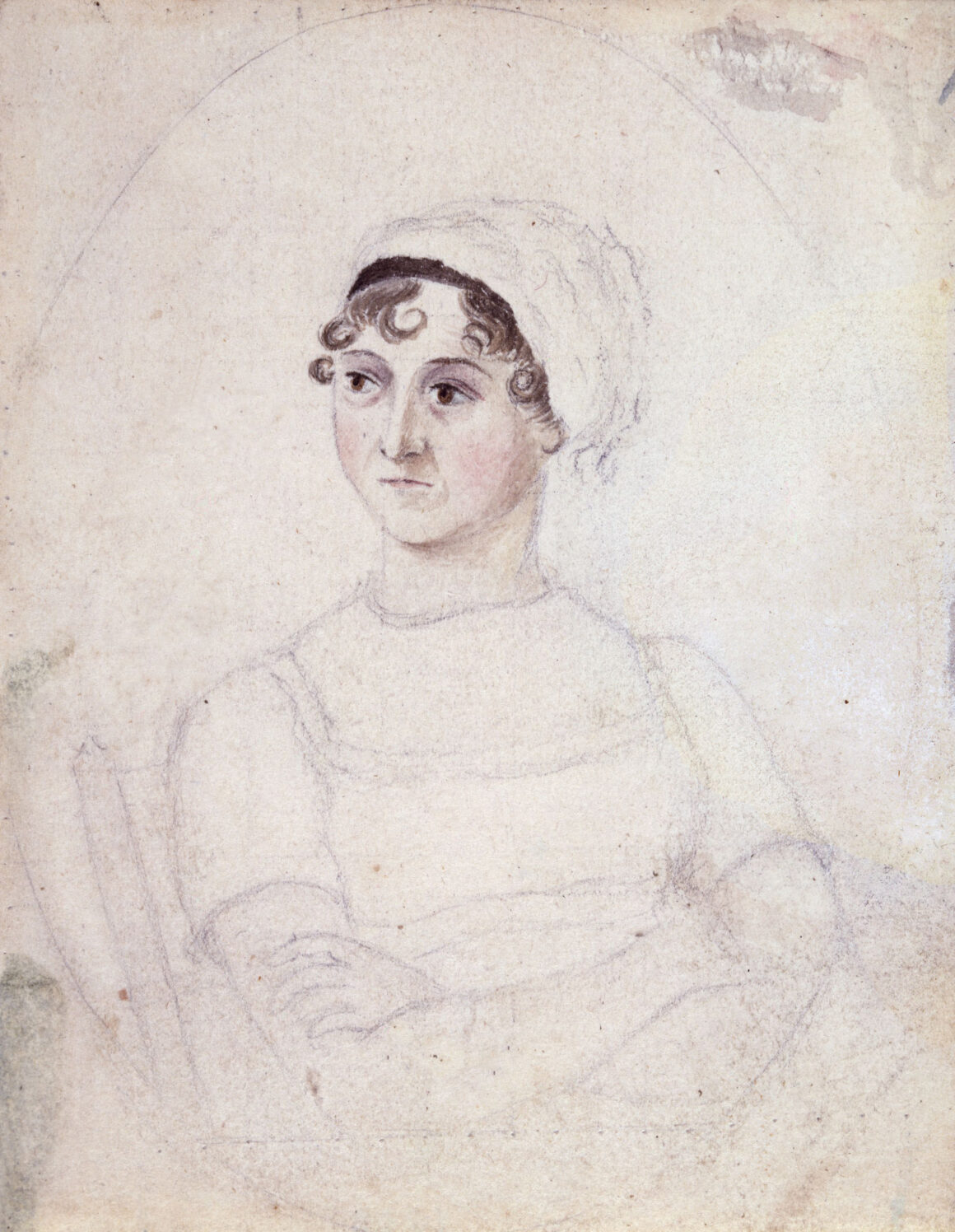 This made him the Prince Regent, which is where the term "Regency era" comes from. During this period, there were many regency authors, the most famous being Jane Austen. 
When we look at Regency-era historical romances, they are set during this time period. The Duke and I, the first book of the Bridgerton series, takes place in 1813, in the very early years of the regency.
You're probably asking yourselves, why would a book set in the 1800s gain so much popularity? This is a very valid question, honestly. It could be that we as a modern culture romanticize the 1800s to a certain degree. Me, I choose to believe that it's the plot. Think about it. You have a duke, powerful name, land, title, but also single and must marry and produce an heir to continue the line.
You also have a lady from a powerful family who is getting on in years, a spinster as it were even though she's only 25. What we have here is the basic premise for The Duke and I. What I believe is one of the main draws to historicals is that talented authors can put modern plots into historical settings. 
Bridgerton & Beyond
The first Bridgerton book leans heavily on the trope of "fake dating," something that most of us would think is a very modern plot device and, for the most part, I think that's correct. After all, how would one do fake dating in a Regency setting when propriety and reputation are everything. The fact that a man and a woman, although courting, could not be alone together would tarnish the lady's delicate reputation. The tension that can be built from that simple act alone—being together and yet apart. 
What the Bridgerton book series did beautifully was pull historical romance books out from the dusty little corners of your grandmother's cramped bookcases and push them into the light of day. Julia Quinn is not the only author who has gained popularity from historical romances; there are many more. Here is a list of books to read after you've finished watching Bridgerton and want to remain in that blissful historical mood. 
If you simply cannot leave the world of the Bridgertons behind, might I suggest picking up the prequel series by Julia Quinn, the first book being Because of Miss Bridgerton. This is the first book in the Rokesby series and will once again push you back into the world and the family you love with some new characters as well. 
If you still want a Regency-era romance but perhaps something a bit further afield, I highly suggest looking into Tessa Dare. Her books carry with them a highly intelligent and unique heroine with a brooding hero as well. We're off to the Highlands in When A Scot Ties The Knot, where we follow Madeline Gracechurch who really just wants to be left alone. That dream is dashed when her completely made-up fiancee shows up.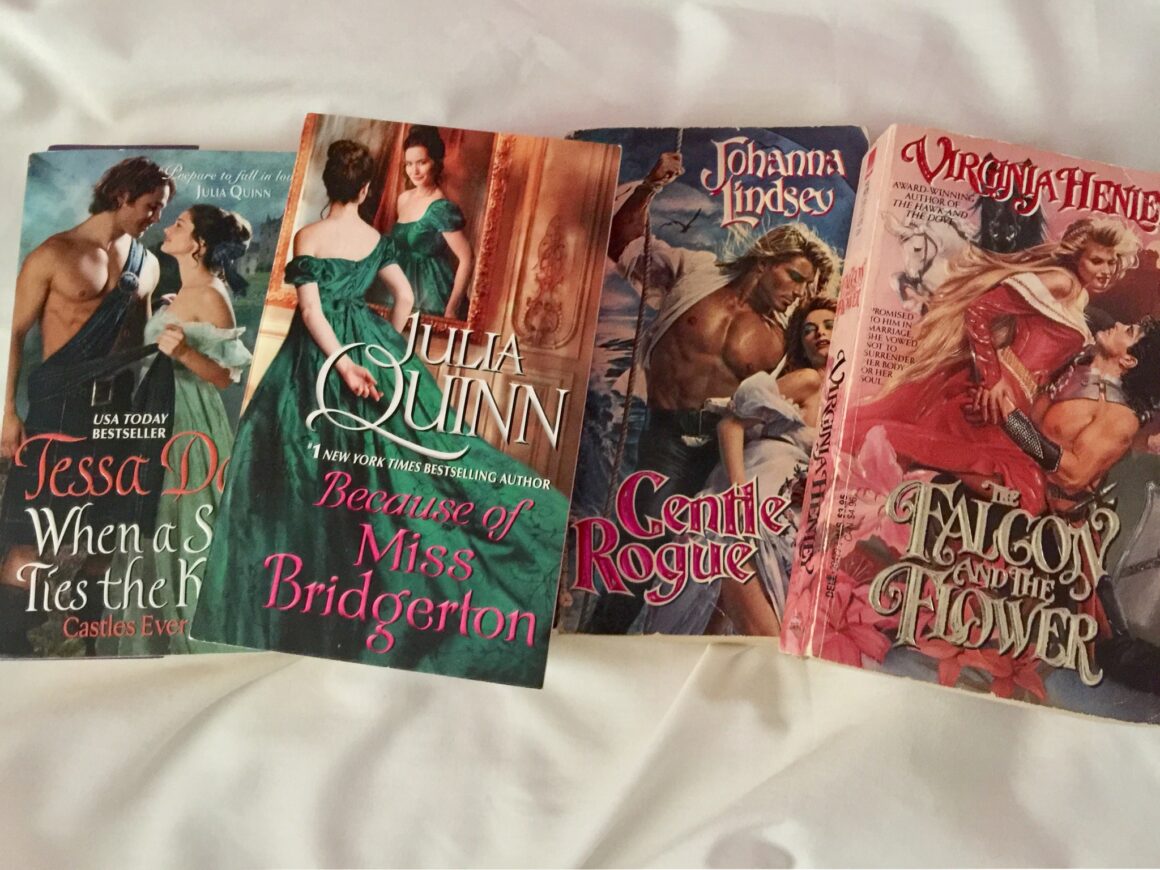 Let's give some range and take to the high seas in a pirate historical romance, eh? Johanna Lindsey is a beloved historical romance author, and her books have a constant level of popularity throughout the years. I highly recommend Gentle Rogue. Georgina just wants to go back home to America, but the only way to do that is to dress as a boy and hop onto the ship of an ex-pirate as his cabin boy. What could go wrong?
Last, but certainly not least, let's go way back—maybe you'd like to try a Medieval historical. Knights and sword-wielding warriors, old-fashioned damsels in distress. I suggest Virginia Henley's book, The Falcon and the Flower, to perhaps quench that taste. 
There we are, books to read after watching Bridgerton! Happy reading!