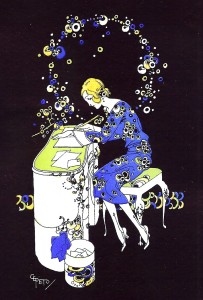 Or so I believe. At least as far as crime fiction is concerned. It seems as though you can't swing a dead body at a fan convention without hitting at least a dozen wannabe writers.
It's become so overwhelming, that conventions such as Malice Domestic and Bouchercon, the two premier conferences, seem to consist of published writers, unpublished writers, and writers who believe they are published because they paid someone to print their words. Where are the fans? Those that read, and are happy to remain readers?
I found a few. I asked my facebook pals who read mysteries, if they also want to write them, and the ones that replied made it clear they are not people pining away trying to come up with the next Janet Evanovich. I noticed they aren't people who attend the conventions, though, either. So either my sample group is flawed, or only those fans that flock to the next panel on exotic poisons are bitten with the writing tick. I use tick, because once a tick grabs hold of you, it needs to be pried off, often quite violently, and it does damage as it leaves. I've seen many fans turn into wannabes, and the longer they attempt to write the perfect novel, the more the tick swells and drains lifeblood.
I'm describing wanting to write as something horrible. Some may think of  Truman Capote, lying about on comfortable sofas with pen and drink in hand,  but those who do it, or try to do it, know how hard it can be. It's the hardest thing I've ever tried to do, and I've attempted some off beat things. When a fan also wants to write, it must be tortuous to attend the conventions mingling with successfully published and hopefuls. So why do it, why not stay home writing? I would guess that as a fan they enjoyed hearing experts explain the process. Now that they want to be part of that process, they attend believing that the panels on various topics will help lead them to a successful formula.
But should every one who wants to write, write? A better question, because wanting to write and writing is not the issue—should every fan who wants to write, also believe they should be published?  And here's where the possible removal of the tick factors in. Just because someone wants to write, then puts words on a self correcting blank virtual piece of paper in Word, doesn't make them a good writer, Good being the most important of words. If not a good writer, it's unlikely they will be published. And after a certain amount of rejections, the tick may finally be full, and need to be eradicated.
Kicking and clawing is the image I conjure when thinking of some who are unequipped to the handle realization they aren't the brilliant authors they think themselves to be. Naturally, some never admit to that fact and continue to suffer the tortures of rejection, or worse, delude themselves into thinking they are published, after paying an e-book entrepreneur thus granting them a title the struggling honest writer won't attain because they know better.
Then there's another slice of fan/writer—the ones that can and do write well. And strive to be published. And succeed. Or don't. Doesn't matter, if one can write, the published aspect will come, hopefully? If not, good is good. Should good writers who haven't been published by the large outlets go the e-book route? I still believe, no. But that is up to debate more and more. How to separate the delusional from the real writer when e-publishers could care less? Unlike the traditional manner in which books are chosen—there are no gatekeepers—no advance readers who toss a manuscript in one pile or the other after tasting a few chapters. And that is why I am not sold on self-publishing, even for the great writer. The chances that the great writer can be found among the dustbins of e-bookery, have to be remote.
I have a granite countertop theory about writing, be it fan or established, or newbie. It is borrowed from a statement applied to the acting profession, and why I'm so mediocre at writing novels. To be an authentic writer, you MUST write. No, it's not a silly statement. Naturally if you don't throw some words together that can be read, you're not a writer—what I am stating—if you don't write, you will die. Metaphorically, or perhaps not—the soul may die. You must live, eat, breathe–writing. You must be passionate about the art–achieving published status cannot be a reason you write. The need to be published is not equal to the need to write. Writing isn't a sideline for a fan. Or a way to have your name on a dust jacket. It is a compulsion, a need, obsession. Normally, these traits aren't associated with positivism. In the case of the written word, beautiful, meaningful, entertaining results are not normal either, they are extraordinary.