by Jas Faulkner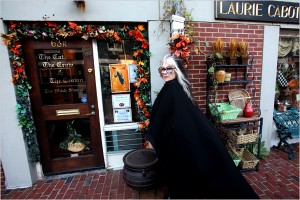 Laurie Cabot acted upon the same difficult decision that many store owners have had to make in the last decade.  She closed the brick and mortar version of her business, "The Official Witch Shoppe", also known as "The Cat, the Crow and the Crown".  Wags will snark that practitioners of the fabulous arts will have to find another place to get their eye of newt and toe of lobbyist; but the loss of the 42-year-old establishment means that yet another retail outlet that offered books as a vital part of its product line has now either disappeared or gone virtual.
For some Pagans, the transition might prove more symbolic, a sign of change rather than real loss.  After all, Technopagans have been recognised as an existing subgroup within a larger tribe since the waning days of the Whole Earth Catalog.  Online communities and retailers provide practitioners of Earth-based religions valuable opportunities for networking and education that might not exist in their immediate vicinity.  The thought of buying a book about the craft in a region that is heavily populated with individuals who follow a path that reflects the cultural majority can be daunting.
Cabot's move to a strictly net-based store may well suit her very specific clientele.  Aside from an extensive selection of books covering Wicca, witchcraft, Paganism, Druidism, divination, lore, and art associated with her part of the grand Venn diagram of world religions, she sells supplies and items that are made with intent.*  The online nature means more flexibility as well as protection for those still living in the broom closet.
From an industry standpoint, closing "The Official Witch Shoppe" had little impact on similar stores across the continent.  Observers have speculated that Ms. Cabot may have felt that she and the store were becoming attractions instead of educational sources for seekers.  Her Facebook announcement points to that.  What must be taken into account is that while many of those store owners  acknowledge Cabot's contribution to a better understanding of Pagans (and Witches and Druids, oh my!), they often operate under a considerably different set of labels.
"Alternative goods stores", "occult stores", and "metaphysical bookstores" often sell the similar goods and services.  Along with those psychic readings and oils and candles that are dressed to thrill, a patron of your average metaphysical store can find books in the more mystical aspects of Judaism, Native American Spirituality, Root Conjure, Santeria, and Buddhism as well as the smudge sticks, incense,   altar items, candles, and meditation cushions a spiritually curious person might find themselves needing.  Some of the more eclectic stores go so far as to offer a spa experience with a magickal twist.   Since you're in the neighbourhood, why not schedule a massage or a mani-pedi or get those roots touched up?
For people  unfamiliar with these stores, it can look like a chicken-and-egg sort of conundrum.  Are mystic traders imitating their more mainstream counterparts by offering items other than books to stay alive?  The simple answer is no.  Magickal merchants often started out as botanicas, places to buy occult supplies.  Small-run broadsides were offered at a nominal price, but the market for book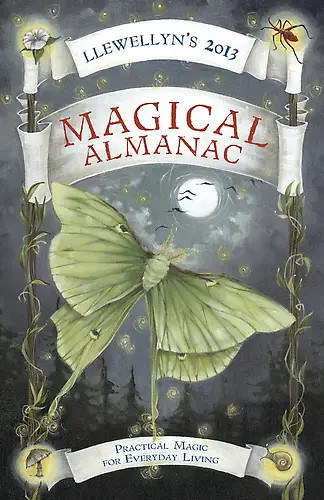 s for wannabe witches would remain a curiosity at best until the surge to prominence in the market by Llewellwyn Press.
Llewellwyn, now in it's 111th year, started out as a publisher of astrology guides.   They branched out into titles dealing with unexplained phenomena and cashed in on the UFO craze in the fifties by publishing Fate Magazine.  Decade by decade, they expanded their offerings to meet the eclectic tastes of North Americans seeking something off the beaten path.  By the end of the twentieth century, they were publishing books that covered the gamut of subjects on earth-based religions and folklore.  Their stable of authors included heavy hitters in the field (in terms of sales)  such as Raymond Buckland, Silver Ravenwolf, Scott Cunningham, and D. J. Conway.
Llewellwyn is still the leader in the field with $46.4 billion in sales.  There are other authors who have carved their own niche into this specialised market.  Margot Adler's study about the reality of Pagan life in America, "Drawing Down the Moon" scandalised and intrigued readers, who began to look for more information.  Consumers in search of magic found it in the Women's Studies, Anthropology,  and Occult sections of most bookstores.  Titles by Starhawk, Amy Zerner and Monte Farber, Zsuzsannah Budapest, and others created their own brands and acquired loyal followers who are still buying their books well into the current century.
Digital editions of popular titles have matched the rate of availability in other genres.  One interesting wrinkle is that unlike many publishers,  Llewellwyn offers digital editions at a lower price than paper editions. While sales of divination tools and toys are still brisk, many developers are working on digital decks that can be purchased as apps for phones and tablets.
A tarot expert in Bowling Green, Kentucky took a look at some of the digital decks available for her Android.
"They're nice," she said, "and handy for people who don't want to carry a deck but might want to consult the tarot when they're out and about.  Same goes for the books.  They'll never really replace the tools you can hold and use, though.  It's about how we interact with the elements.  That's why the people you're writing about, the Laurie Cabots of the world will always sell candles and herbs and oils.  Without that touch of reality, there's no way to discern the magic."