May is Asian American and Pacific Islander Heritage Month, or AAPI month, for short. If you want to celebrate AAPI month, reading a book from an Asian or Pacific Islander author is a great way to participate, especially if the book features Asian and Pacific Islander characters. Making an effort to read from AAPI authors should always be a goal in readers' minds.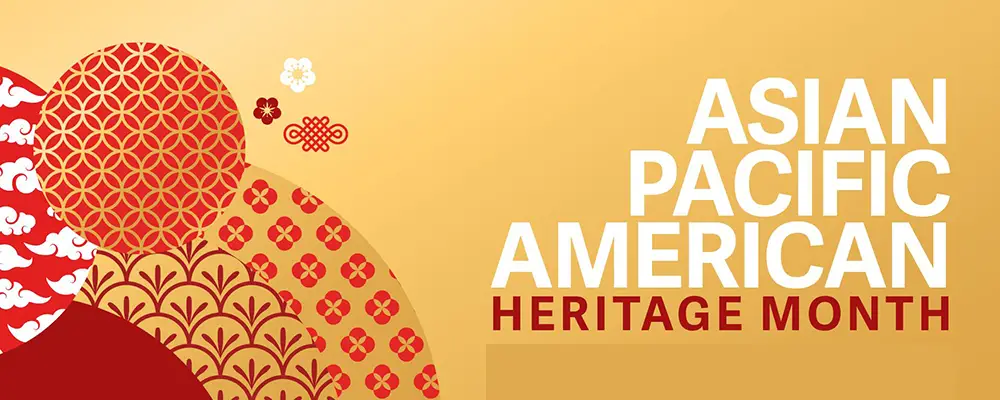 But May is a great month to start working toward this goal if you haven't already. Listed below are 15 book recommendations from Asian and Pacific Islander authors to hopefully get you started. 
Know My Name by Chanel Miller
For a long time, Chanel Miller was known to the world as Emily Doe in the Brock Turner sexual assault case. Though Turner was found guilty of sexually assaulting Miller, he was only sentenced to six months in the county jail. In Know My Name, Miller reclaims her identity to tell her story in her own words. Know My Name highlights how even in the best-case scenarios, the justice system can still fail sexual assault victims. 
If I Had Your Face by Frances Cha
If I Had Your Face follows four women living in the same apartment building in Seoul, Korea. Each of the women is navigating her own issue pertaining to her womanhood, including plastic surgery, Korean beauty standards, classism, prostitution, wealth, and even K-Pop. If I Had Your Face is an enthralling look at four different women's lives in Seoul, Korea, while dealing with the contemporary problems they are facing. 
Portrait of a Thief by Grace D. Li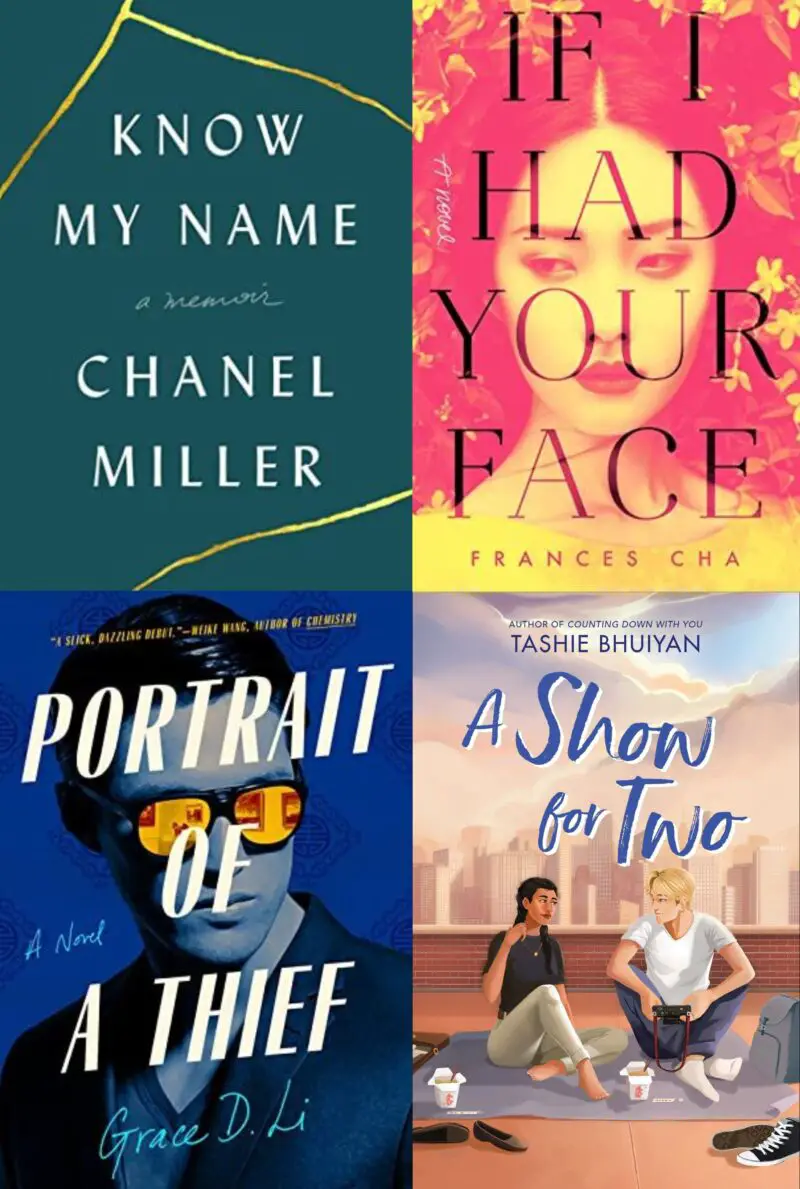 Portrait of a Thief is the debut novel by Grace D. Li that is part Ocean Eleven, part The Social Network, and part Crazy Rich Asians. When Will Chen, a Chinese American art history student is offered a chance to earn $10 million by stealing five priceless sculptures for a Chinese corporation, he accepts.
He joins a group of fellow Chinese American college students on the heist. Though each of them is reckoning with their identities as Chinese Americans, nothing will stop them from completing the heist. 
A Show for Two by Tashie Bhuiyan 
A Show for Two is about Mina Rahman who wants to win the Golden Ivy student film competition and leave New York City for her dream school across the country. Her best chance of winning the film competition and leaving New York falls into her lap when indie film star Emmitt Ramos enrolls in her school to research a role. Mina and Emmitt strike a deal where he will star in her student film and Mina will act as a tour guide for Emmitt to help him with a photography contest. Exploring the city, Mina realizes leaving New York and winning the competition may not be what she wants.
Minor Feelings by Cathy Park Hong
Minor Feelings by Cathy Park Hong is part memoir and part cultural criticism. Cathy Park Hong, the daughter of Korean immigrants, grew up surrounded by shame, suspicion, and melancholy. She eventually realized these "minor feelings" arise when American optimism contradicts your own reality—when you believe the falsehoods about your own racial identity. Hong utilizes her own story as a springboard into a more in-depth discussion of racial consciousness in contemporary America.
Interior Chinatown by Charles Yu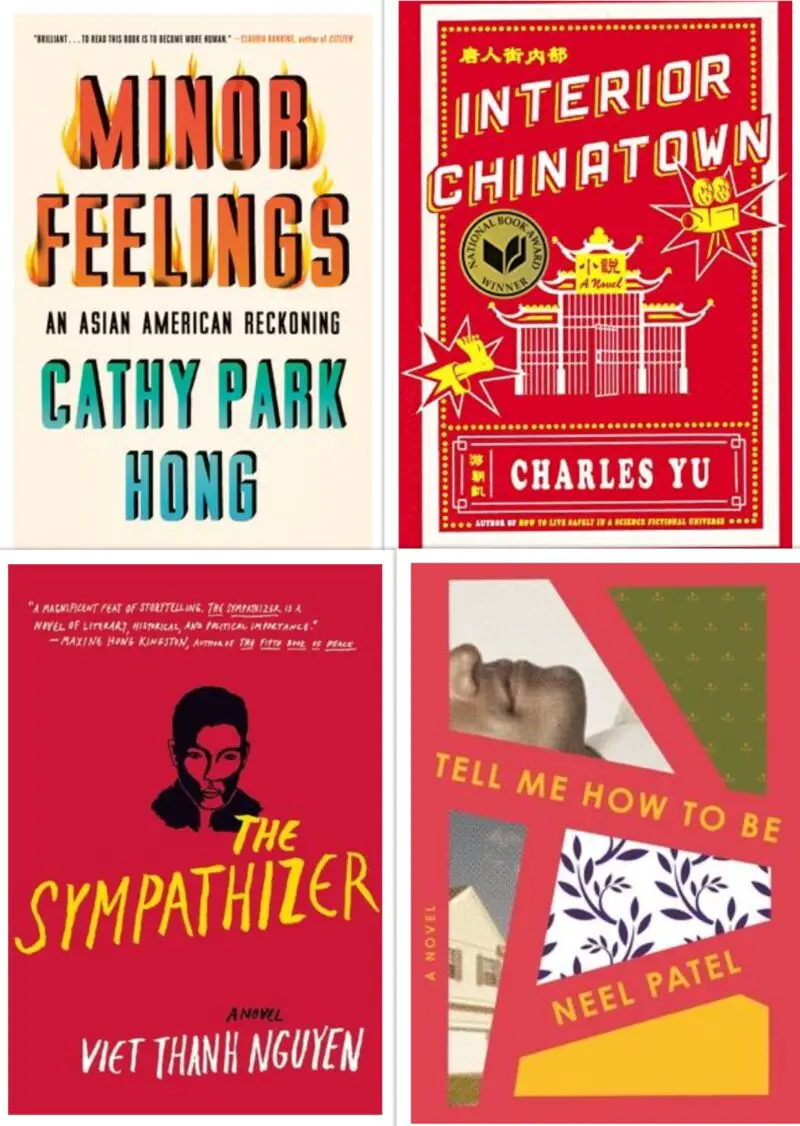 Interior Chinatown is about Willis Wu who works at the Golden Palace restaurant. At the Golden Palace, the procedural cop show Black and White is always filming. Wills works as an extra on the show until he finds himself in front of a wider audience and a bigger spotlight. Interior Chinatown explores the Hollywood tropes and Asian stereotypes that Willis finds himself encountering as an actor and in his everyday life. 
The Sympathizer by Viet Thanh Nguyen 
The Sympathizer is about the Vietnam War and the Vietnamese refugees that come to America specifically sent to exile in Los Angeles. The book is told through the eyes of a half-Vietnamese, half-French undercover unnamed communist agent in the form of a confession. The Sympathizer is notable for winning the Pulitzer Prize for Fiction in 2016. 
Tell Me How to Be by Neel Patel
In Tell Me How to Be, we follow the story of Renu, Bijal, and Akash. Renu is a widow and is planning to move back to London. Her sons Bijal and Akash return home to help her pack. As they prepare for the move, we learn all three are hiding a secret from each other.
Related: Readerly: Review of the New Book Recommendation App
Renu is in love with a man she knew before she got married and she wants to reconnect with him in London. Bijal's marriage is in trouble. And Akash is gay and living with his partner but he hasn't come out to his family yet. Each of them has to confront their secret to fully accept the lives they've made for themselves. 
Siren Queen by Nghi Vo
Siren Queen is a dark adult historical fantasy book following Luli Wei, a Chinese American girl who wants to make it in pre-Code Hollywood. She knows all the roles available for Chinese American actresses in the 30s are typically villains and maids. But this doesn't stop her from pursuing her dream of being an actress in Hollywood. Siren Queen combines the fantastical elements of the fantasy genre and what being a Chinese actress looked like in the golden age of Hollywood. 
American Betiya by Anuradha D. Rajurkar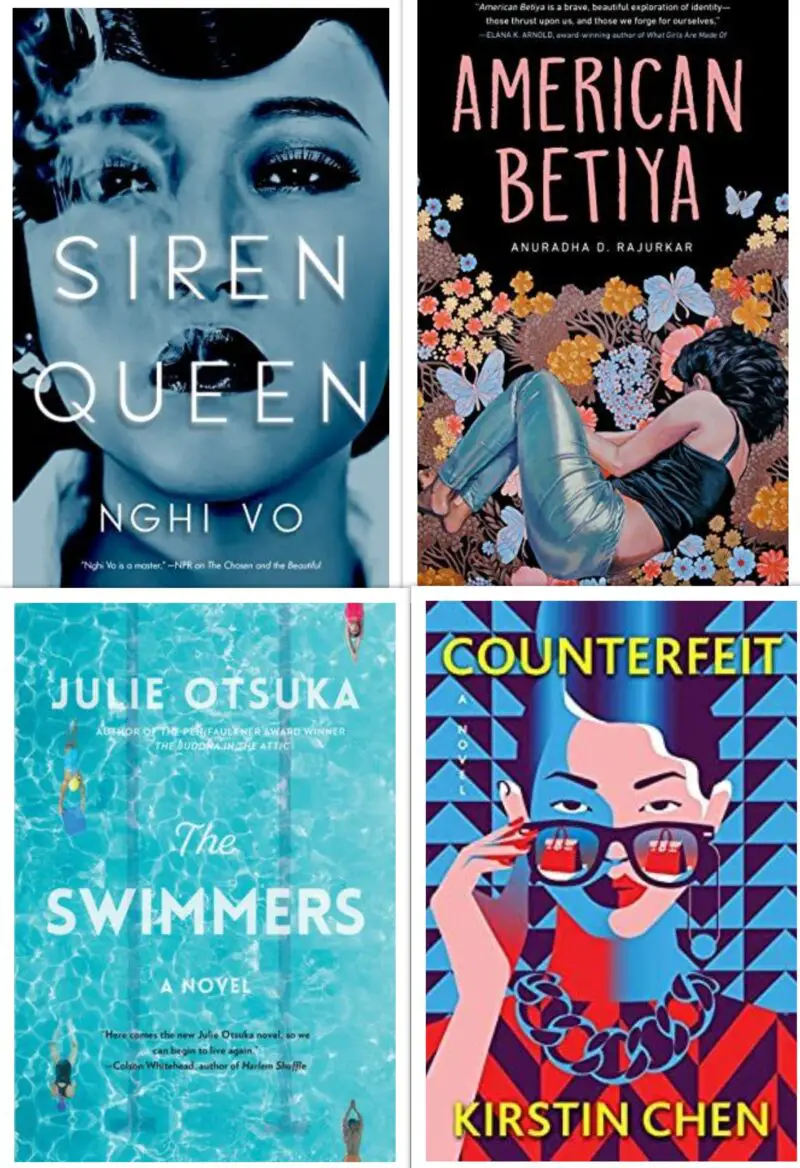 American Betiya follows Rani, an Indian-American teen who meets a white boy called Oliver and secretly begins dating him. However, as the two spend more time together, Oliver begins to fetishize Rani and her culture. When Rani unexpectedly travels to Pune, India, for the summer, she reckons with her identity. She also faces the reality of what's really happening between her and Oliver.
The Swimmers by Julie Otsuka
The Swimmers centers around a group of adults who routinely and recreationally swim at a local indoor community pool. After they find a crack at the bottom of the pool, the swimmers lose the comfort and stability the pool provided. One of the swimmers is Alice who is losing her memory due to suffering from the early stages of dementia. The loss of the pool leaves her recalling the memories of her life, including memories of her childhood and the Japanese internment camp she spent the war in. 
Counterfeit by Kirstin Chen
Counterfeit is about Ava Wong, a wife, mother, and lawyer who on the surface has the perfect life. However, in reality, her marriage is falling apart, her law degree is worthless, and motherhood is getting to her. When her old college friend, Winnie, comes back into Ava's life, she introduces her to the exciting world of counterfeit designer handbags. Counterfeit is perfect for fans of the movie Hustlers.
Miracle Creek by Angie Kim
Miracle Creek is a legal thriller that takes place in a small town in Virginia. It focuses on a group of people who know each other from being a part of a special treatment center, which has a hyperbaric chamber that may cure a range of conditions from infertility to autism.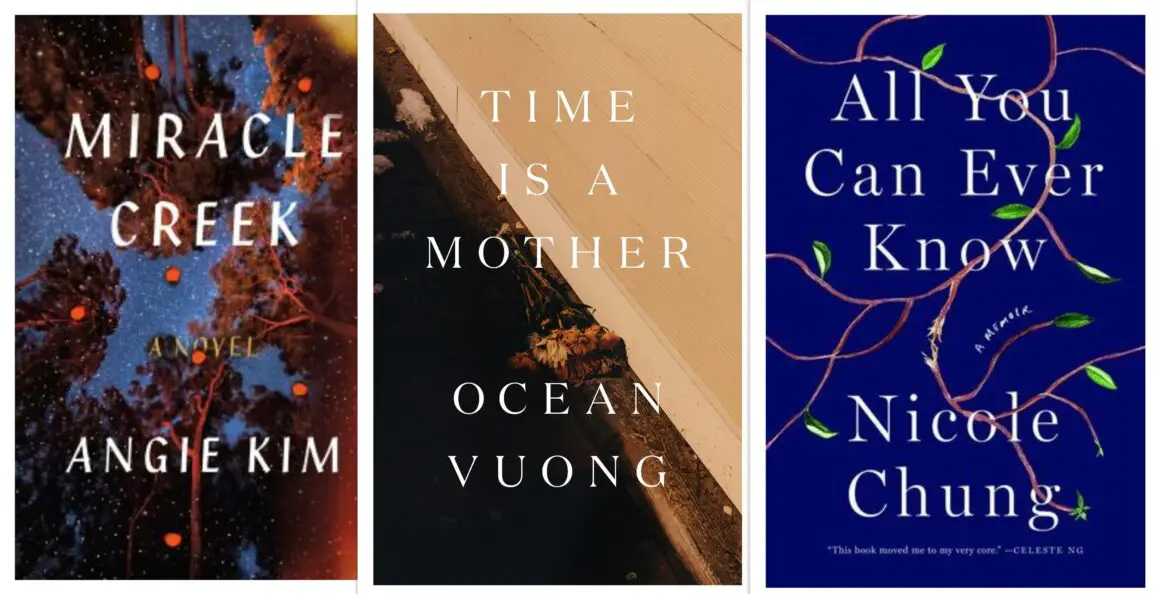 But then the chamber explodes and two of the members of the group die. When it becomes clear the explosion wasn't an accident, everyone becomes a suspect. 
Time Is a Mother by Ocean Vuong 
Time Is a Mother is the second poetry collection from Ocean Vuong. In the collection, poems center around Vuong's grief following his mother's death from cancer in 2019. Vuong deals with his personal grief, the meaning of family, and the cost of being an American war product in America. Vuong's writing is vivid, daring, and propulsive. His poems exemplify his talent. 
All You Can Ever Know by Nicole Chung
All You Can Ever Know is a memoir about Nicole Chung's story of adoption. Chung was born severely premature and was placed for adoption by her Korean parents. She was adopted and raised by a white family in a sheltered Oregon town. Chung, curious about her birth family, writes about searching for her birth family, which coincided with the birth of Chung's own child.
Although May is AAPI month, you can read books written by Asian and Pacific Islanders at any time of the year. These 15 books could prove to be a good start in reading more books and stories from Asian and Pacific Islander authors. Happy reading!