From Brain Pickings…
For my book club collaboration with The Dish, Andrew Sullivan's online oasis of intelligence and idealism, I had the pleasure of sitting down with cognitive scientist Alexandra Horowitz to discuss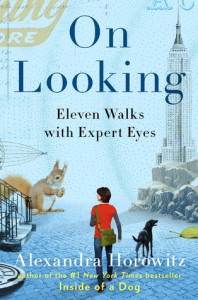 her immeasurably wonderful On Looking: Eleven Walks with Expert Eyes — one of the best books of 2013 and among the most interesting I've ever read, a provocative exploration of how powerfully our experience of "reality" is framed by the limitations of our attention and sensory awareness.
Our conversation ranges from Alice in Wonderland to John Cage to Susan Sontag, by way of dog cognition and productivity, in the service of understanding how different minds expose the many everyday wonderlands hidden before our eyes. Highlights below — please enjoy.
From Bii's Books
In exploring how to see and experience more of our environment, Horowitz took a series of walks with different experts and taking different perspectives. This helps to draw out different aspects of the environment which might otherwise be missed on a city walk. As a starting point Horowitz took and described her own walk, including some interesting information about why it is that we learnnot to see, and she also took a walk with her small son, allowing him to guide her in his own exploration of their neighbourhood. The results were quite interesting. Horowitz discovered that when she walks she walks to be somewhere taking little in and moving swiftly, whereas her son's walk was far more of an exploration sometimes taking 20 minutes before moving from one interesting sight to another. In her walk with her son Horowitz was surprised to find how frustrating she found it, how much she longed to move determinedly through the streets whereas her son longed to linger and examine and see.

This theme repeats throughout the walks that Horowitz takes with the experts, but in these walks she is much more open to seeing and experiencing the city through the eyes of her fellow walkees. Horowitz walks with Sidney Horenstein an expert on geology, Maria Kalman an illustrator whose willingness to walk into seemingly off-limits places Horowitz found both exciting and disturbing (much notice is taken of personal space), Paul Shaw an expert on typefaces, Charley Eiseman a naturalist who spends most of his time flipping over leaves looking for evidence of creepy crawlies, John Hadidian who has a similar interest but in the larger animals living in the city, Fred Kent an expert on the use of urban space and a man who enjoys a well thought-out shop front, Dr Joseph Bell who can diagnose medical conditions at a glance. By far my favourite walk was that she took with Arlene Gordon whose blindness doesn't stop her from 'seeing' the city, and she also took an interesting walk aimed at hearing the city better and one from a dog's eye (or more accurately: nose) view.

 
More discussions with Alexandra..