by Jas Faulkner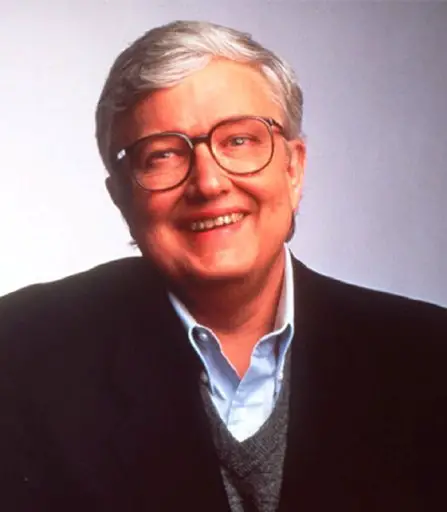 He was the first critic to have his own star on the Hollywood Walk of Fame.  The Chicago Sun-Times reviewer was also the first of his profession to win a Pulitzer Prize.  At a time when the word, "iconoclast" is almost tragically abused by dint of misapplication, Ebert lived a professional and personal life that embodied its definition.
"When I am writing, my problems become invisible, and I am the same person I always was,  all is well. I am as I should be."                                                                                                                                                     –    Roger Ebert*
Post-millennial cineastes know the Roger Ebert who kept a blog, wrote books, and was an eloquent champion for social justice. He never surrendered his hard-earned mantle as an elder statesmen of popular film criticism while maintaining an unbending resolve to speak his mind. In this respect, he had a lot in common with Fred Russell, a Grantland Rice acolyte who didn't mind grabbing readers' attention with his take on sports and kept them past the aw shucks joshing to a serious come to Jesus talk about race relations. The miraculous thing is that they both did this while dancing backwards and getting you to look at that great movie or heart-breaker of a finish on Tennessee's hardwood.
Ebert was a genius whose laser-like precision of thought was as impressive in a one hundred and forty character Tweet as it was in the hundreds of reviews that were collected in the anthologies and the movie yearbooks that served as paginated sherpas for the cinematically perplexed.
He was also the guy with cancer.  Cancer took his speech, his ability to eat and drink, and his lower jaw.  He disappeared for nearly two years to convalesce and then returned to public life in 2007.  With his wife, Chaz, at his side acting as his voice, he refused to shy away from the realities of his personal and professional life.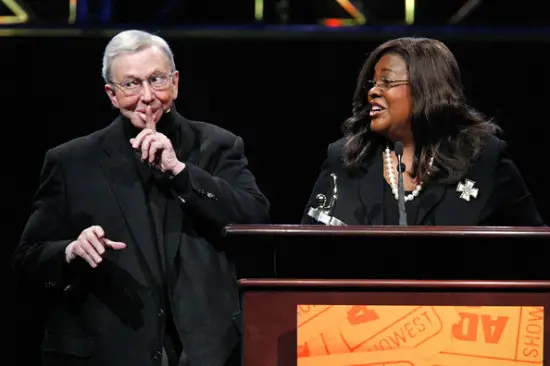 In researching Ebert, I came across a wealth of quotes that would give a good picture of who he was.  Summing up an almost fifty year career in a single article is not easy, especially when that half century is devoted to the written word.  Then I came across this quote:
"With everything I write, I am very personal.  I write in the first person. I don't believe in a movie reviewer pretending to be objective.  A review is just someone's subjective opinion."
-Roger Ebert**
Point taken.
So kids, you knew the Roger Ebert who was stricken but unbroken by outrageous fortune. I did, too, and I admired him as much as you did.
Anyone who came of age in the late 70s' and early 80s' knew of Siskel and Ebert.  Theirs was the geekiest of geeky bromances: two middle-aged guys who sat in a faux theater and discussed the latest movies (and later on what was just released on VHS).
Sneak Previews and At The Movies were pop culture punchlines for those who didn't get it. After all, who thought that two sometimes grouchy midwesterners arguing over the merits of Splash would make compelling television?  For those of us who understood, it was thirty golden minutes with two grownups who loved movies as much as we did.  As contentious as they could be on camera (and it was rumored that this sometimes continued once the  lights went out on the set) it was clear that they were a perfectly matched set.  Neil Simon couldn't have written a better pas de deux of critical wrangling.
Ten years after Siskel's death in 1999,  Ebert had this to say about his onscreen partner:
"Gene Siskel and I were like tuning forks. Strike one, and the other would pick up the same frequency. When we were in a group together, we were always intensely aware of one another. Sometimes this took the form of camaraderie, sometimes shared opinions, sometimes hostility. But we were aware. If something happened that we both thought was funny but weren't supposed to, God help us if one caught the other's eye. We almost always thought the same things were funny. That may be the best sign of intellectual communion.

Gene died ten years ago on February 20, 1999. He is in my mind almost every day. I don't want to rehearse the old stories about how we had a love/hate relationship, and how we dealt with television, and how we were both so scared the first time we went on Johnny Carson that, backstage, we couldn't think of the name of a single movie, although that story is absolutely true. Those stories have been told. I want to write about our friendship. The public image was that we were in a state of permanent feud, but nothing we felt had anything to do with image. We both knew the buttons to push on the other one, and we both made little effort to hide our feelings, warm or cold. In 1977 we were on a talk show with Buddy Rogers, once Mary Pickford's husband, and he said, "You guys have a sibling rivalry, but you both think you're the older brother."***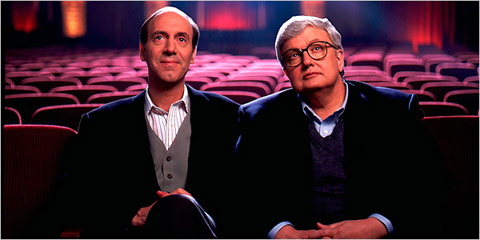 "Being Candid is in my nature.  I can't help myself."
                                                                                          -Roger Ebert**
Roger Ebert leaves behind a legacy of excellent critical writing and the story he authored of a life lived fearlessly.
Among my little circle of tenth grade geeks and nerds, he was one of the adults who had our attention and our admiration.  He was our first exposure to anyone who truly loved what they did for a living.  He was our glimpse living and working with a real passion for their work.
Later generations would learn cynicism and survival of the snarkiest from their critical heroes.  I guess that works for them.   For me and my friends, it was about the bliss that comes from doing what you love and as mature adults figuring out from example that it's really about creating a life you can love. For that and for being able to point that out to young'uns before they get too cool and too hard, I am grateful.
Godspeed, Mr. Ebert.  I hope your buddy Gene saved an aisle seat for you.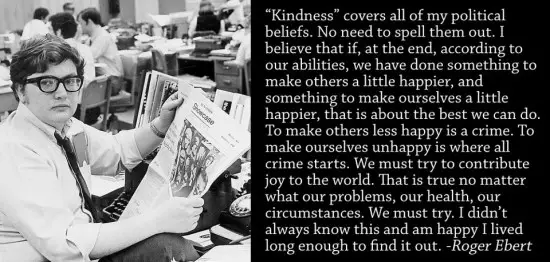 *Roger Ebert: The Essential Man, Esquire, February 16th,2010
**Chicagoans of the Year 2011, Chicago Magazine, January 2012
*** Remembering Gene, Chicago Sun-Times, February 7th, 2009.