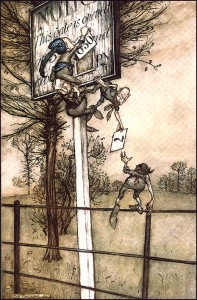 My first taste of Golden Age Illustrators of children's books, which is the period of the late 1800's until a bit after World War I, was on a trip to England. My theatre class took the May term and traveled to London.  I had, and have a habit of buying art postcards from museums, tourist sights, sometimes to the point of going to the gift shop first, and the actual art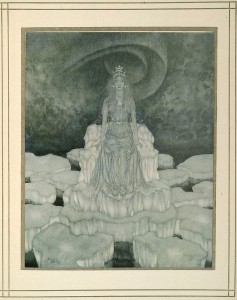 second. I believe it's the desire to own in a tiny way, what is on display at these showplaces. I began to notice in various shops, cards and postcards of fairy tale and fantasy artistry–gnarled gnomes changing a sign; a queen sitting regally in frozen blue-green ice; a tiny blonde woman figure riding the back of a bear across an moonlit landscape. I had no idea who the artists were, so I began to study their names. Arthur Rackham, Kay Nielsen, Edmund Dulac, W. Heath Robinson, Charles Robinson, Harry Clarke, Thomas MacKenzie, Jessie Wilcox Smith, Willy Pogany, and William Timlin. A couple years later, David Larkin edited a series of large format paperbacks with real size illustrations from the above artists. I was completely gobsmacked by this time, and began seeking out possible purchases. Reality hit hard when I priced titles illustrated by the artists. Many were gift books,  editions with print runs severely limited.  Even back then, the prices were far out of anything I could afford. I had to love them from the small amount of examples in Mr. Larkin's books. Until I was thumbing through a discarded 'New Yorker 'magazine and discovered Green Tiger Press. The company had a tiny ad offering cards and notecards of Golden Age illustrators. I sent for a catalog, and proceeded to buy as many cards at intervals as I could afford. Whenever a group landed in my mailbox, it was Christmas Day. It was thrilling opening the package, pulling out each new gorgeous illustration, and then microscopically exploring the catalog looking for my next choices when I had the money to spend. I still have most of those postcards today. And the remains of a catalog–I cut many of the wonderful tiny pictures out. Green Tiger Press eventually morphed into a children's publisher, then was sold, but recently bought back their name, however their stock is not as indicative of the Golden Age as it once was, and you are not able to buy single cards–the only affordable way to collect them. Their greeting card line is named Laughing Elephant, and although they have wonderful images, it isn't nearly as magical as it once was.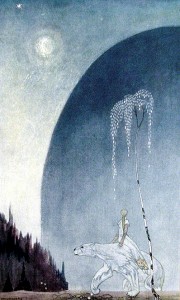 While in college, studying theatre I had the opportunity to tailor a course to my specifications. I took Arthur Rackham's work, wrote a thesis, and created a short play based on his illustrations. I aced the course–it's easy to do when the thing you love is considered work.
In the 1980s, I was fortunate enough to see exhibits dedicated to their artwork. I'm sure I went at least 3 times to a museum in the upper East Side of Manhattan, to see over and over again, all the greatest artists original work on display. Nothing compares to the original art. The next best thing is a first edition with tipped in plates. Naturally, I bought what was offered, even the  book outlining the collection, with mostly black and white reproductions, unfortunately. And I learned a little more each time I encountered their work.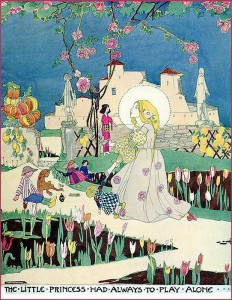 I went to high end antiquarian book shows, and was able to  touch first editions of Rackham's Peter Pan in Kensington Gardens, Edmund Dulac's Arabian Nights, and, sigh, In Powder and Crinoline, Kay Nielsen's masterpiece and a coveted title.
But what I didn't realize while adoring the major names in illustration, was how many others were out there yet undiscovered by me. I had added several other individuals to my favorites list, but they were still of a particular area, the high end gift book and limited to around the Golden Age.  Virginia Sterrett, a brilliant short lived Deco illustrator, Jessie M. King whose House of Pomegranates is  divine, and of course, my favorite illustrator, Anne Anderson. Among all the Green Tiger Press cards were other artists I vaguely knew of, but never explored further.
I wanted to to something with all the various images I had collected so in the late 90s began a venture making jewelry using charms and the illustrations. Still, I'd not yet realized the scope of artists out there. Then, my entire vintage illustration world was blown open when I joined flickr. Although a site primarily for original photographs, the powers that be allow vintage illustrations and other things along those lines, to be uploaded and put into groups on their site. All of a sudden, there were illustrators flying across my computer screen willy nilly. I was giddy. Imagine how I waited for each card and reveled over them. Now imagine each card lasting ten seconds as I go to another and another and another, saving them all to return and eat them up again and again. I downloaded images in gusts of furious activity. In time I had put up over 16,000 images that I'd either already had, or had found independently on the internet, outside of flickr. And have been introduced by other members to untold amounts of never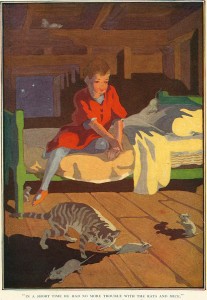 seen before artists. It's an ongoing process. Someone each day posts a beautiful piece from an obscure title long out of print and forgotten. And I long to own the book the pictures were scanned from. But that would require winning a lottery I never play, or some long lost uncle leaving me a fortune to spend lavishly on first editions, picture books, and Mother Goose. Some illustrations are so compelling, I do find a ratty old copy just so I have the real thing near. Mostly, however, I live through them digitally, I find, download and print. I work to restore their vibrancy and fix tears, folds, imperfections to get it as close to the original as possible. And I dream away.
What prompted this article was the discovery of another artist, haphazardly, while googling something else. A scrumptious Mother Goose cover popped up, and it just slayed me.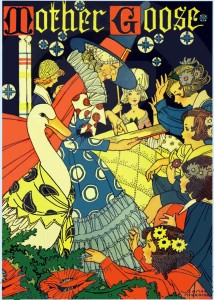 Naturally, it was watermarked, to keep little thieves like myself from using it–public domain images are not 'owned' by any one, but that doesn't mean that whomever has something, shouldn't  make a profit if they can, and watermarking it protects their interests–most of the time. The artist's name is James McCracken. I immediately searched throughout the tubes that are the internet and came up with very few examples of his work. But there is that Mother Goose. I tried finding a copy of the book on bookfinder–no dice–Mother Goose is not exactly a rare title, and although I have the illustrator's name, I don't have an editor or author for that particular edition. Just how badly did I want that Mother Goose illustration to add to my virtual collection of perhaps 20,000 images? Bad enough to buy one postcard and pay more than it is worth in shipping. So another artist is now known to me, as I journey on discovering and adding information about an obsessive love.
Amendment: As I tried to find the logo for Green Tiger Press, I came across their new, well, new to me, website with a line much more in line with what they used to have, rather than the Laughing Elephant works.