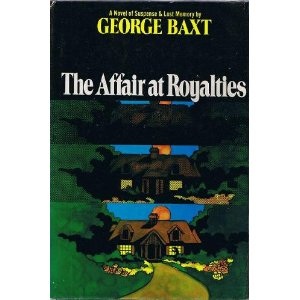 One of the gravy parts of my tenure managing mystery bookshops, was meeting and greeting authors. Established, brand new, legends, ego maniacs, and future friends.
Granted, I worked in arguably the greatest city in the world (I take that line from the David Letterman show) and therefore had more opportunity to meet authors. In a specialty indie such as a mystery store, it's essential authors sign their new titles. Whether they drop in, the store has an event, or you ship books to them, a signed book has a greater chance of selling.
Very early on in managing a well known store, I saw an older gentleman climbing up the iron spiral staircase  and walking towards the Wizard's chamber–the owner's library. No one without an appointment or a great friend of his was allowed past the hall door. So I was amazed when this man went all the way through into the library, without the personal assistant or accountant stopping him. I was busy doing a billion other things and didn't bother about it again until he was leaving and the wonderful assitant called him by name.
I almost keeled over from excitement. This was a person whose name had been in my wallet for years, along with Cornell Woolrich and a couple of others. I wrote their names down after reading remarkable books by each, and kept them where I could check the list if at a bookstore, garage sale, library sale, church rummage sale. I'd come across more Woolrich, but hadn't found anything else by the man now standing before me. I managed to squeak out–"you're George Baxt?" and that was all.
That was enough. As I learned fairly quickly, George liked himself, and discussion, attention, about himself. I explained the list, how An Affair at Royalties had been read by myself and my mother and we'd been looking for more by him ever since. He led me over to the aphabetized solid bookcases lining the entire room, to his last name where several titles were lined up. "what's your problem, having trouble with your eyes, they're right here."
Well, by the time I'd worked in the store I'd come to realize what other works he'd written, but the idea was to explain how much we loved that book to keep his name all this time. And I'd perused the shelf  before, nothing remotely resembled in plot and tenor, the favorite title. He'd written the first gay black detective named Pharaoh Love, and was famous for it, but I'd just learned this. My experience with the vast roster of crime fiction authors was quickly being expanded, but apparently not fast enough to include all of George's titles.
So I reitterated my point about the *loving* of his book, and things went much better. He was witty, charming, enthusiastic, and bombastic–the bombastic part turned out to be more his personality than the former traits. For George was well known in the business. By other writers, bookstore owners and staff, editors, publishers and one could say quite definitely he was —-* hated * by all!
George had a colorful amazing past, full of various professions and associates, but none of that was discussed this day. I focused on his making sarcastic remarks about the owner whom he just visited, other authors not present, the publishing industry, his dentist, a plethera of subjects, as long as they led back to him.
Despite his self absorbtion I was entranced. His latest mysteries starred the likes of Tallulah Bankhead, Alfred Hitchcock, Greta Garbo, and others. Naturally, I wanted to read them all. He left happy I was happy about him!
And I did read a few. His first two were quite good, but as time went on the quality began to fade. He was still being published, which was no mean feat even then, he had a nice core of followers.
I either asked for review copies of his books or bought them, having him inscribe the books to me each time he dropped by for a visit. He wrote humorous ditties or nice sentiments, I never knew which would be 'on the menu' for that day.
Funny thing, the owner disliked him, yet he was welcome within the store whenever he came. Since George was a native New Yorker, he was in the area quite often. Well, disliked was a fluid term when George was involved. I believe many people tolerated him because somewhere under the 'me me me' was a very interesting and somewhat nice person who rarely showed up. And the owner himself wasn't going to win major popularity contests, particularly among women writers. Brilliant collector, yes, editor, yes, bookstore owner yes, charming some of the time, yes, but annoying to some, yes.
So it was interesting and fun to watch the interaction between the two. Caustic conversation flowed like honey they never used when speaking to each other. It was like viewing a verbal boxing match at times. One punch to George, one smack back. And yet, I never felt real animosity between them. Individually they expressed their distaste for the other, and still George would visit, and sometimes the owner would come from the back and engage with him.
As time went on, George, myself and my husband became as good friends as was possible with George. We would see him socially from time to time, even driving up to where he was living at one point in connecticut.
His flamboyant abrasive personality never wavered. But he was one hell of a great character, and in many works, a damn good writer.
As an afterword–I recorded George on tape about his early life and professions–in later writings I will explore and relate some of the stories, they are worth reading.