Bichons Frises–Love Them, or Love Them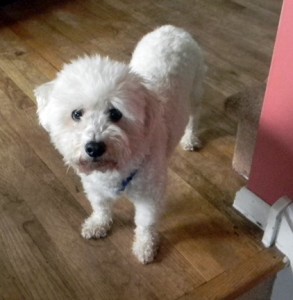 I want to hate Lucky. I really do. He's a 20 pound hairy pee machine, whose obstinate nature will not allow him to do his business outside in the wide wilderness of a back or front yard, or even against neighborhood trees and hydrants. On paper, he looked perfect. An adorable 9 year old in need of a new home due to his one and only owner's illness, the niece of the owner unable to take him in, the wonderful Delaware Valley Bichon Rescue opening their arms to him with a foster mom, and reports of his perfect record in regards to potty duties. Loving, lovable, he adores people and other dogs, just not in love with cats. Which at the moment, we don't have. What could be better? We wanted a male, we are used to them, and since the disastrous foster dog,  Puff (we did not name her) whose non stop peeing inside due to illness ruined practically every rug not destroyed by our marker, Charlie, who is now 16 and blind from diabetes, we believed a male would not pee with the volume and vehemence Puff supplied. We were wrong.
Lucky turned out to be our bad fortune. When he pees inside, which is whenever he wants to–he pees for at least 30 seconds of concentrated leg in air. I've never seen anything like it. Our angel Merlin, the first and best and sadly deceased Bichon, was a perfect gentleman. Trained to the nth degree, he often had to wait for us to vehemently make OK moves allowing him to start his breakfast, because his original family didn't bother to supply his eat command. Merlin, if he ever made a mistake, it was exactly that–a mistake, due to fear from thunder, a new situation, or someone forgot to follow his signals and take him out.
I realize it's possible part of the problem is that we've no fenced in yard for Lucky to slip out to. The founder of the Bichon rescue has an incredible doggie door that leads to a great expanse for her massive group of personal pets and fosters. Finances and a lack of permanency has precluded this addition to the property. Still, you'd think an adult dog would be aware  of  inside vs. outside? No, not Lucky. Or, if he is, and he's deliberately not going out–it's because he's a maniacal jealous doggy dog. He goes ape every time I or another family member pays any attention to Charlie, the old lame boy whose death we had thought imminent and therefore acquired Lucky in hopes
it would help my mother's grieving process over her beloved dog. Well, turned out I was overdosing poor Charlie of his insulin. Once that was corrected, he became his old irascible self, loving his treats, his wanderings, and his grandmother's chair. Which left us now with three dogs.
So how does one correct an errant dog? Is there anything one CAN do at this late date to fix this huge problem? And how is it possible he only began this behavior when his first paw hit our front door? He really never did this with his owner, or the owner's niece, or the foster mom? At least with his foster mom, it's possible she didn't notice or he didn't behave that way because she had a fenced in lawn. I'd believe a back yard and accessibility for Lucky is all it would take, if we hadn't rigged up a long tie out for him, and when given the opportunity to run for fun, he stands still, staring out us as if we just put in him doggy labor camp, expecting him to crack rocks or something typically given to prisoners to do.
I'll admit it publicly. Lucky is not the sharpest anything anywhere. He's well, dumb. Stupid. Mentally slow, defective, off. Mentally doggily challenged, however one wants to put it, he's lacking grey cells. He never comes when called, doesn't do a single thing we ask, follows me around with blank eyes, just waiting for something, anything to indicate to him what to do next. And yet, and yet, he's a little crafty bugger. As soon as the door to my mother's bedroom is opened, he seizes the opportunity if no one is guarding it, go run in and quickly squeeze out some poops. Then scampers out, triumphant to have made himself known to that king Charlie, the one that is waited on hand and foot, and who has the prime location on the big chair. And don't think he's going to put up with that irritating thing called a belly band around his private peeing area! 'Houdini' is his middle name! In a doggy bed he wiggles and squiggles and moves to his own drum, just enough to make the belly band slide off like he's made of butter. Then returns to his usual routine, stalking me and sniffing areas in which to pee next chance he gets.
I suppose we could have returned him after realizing his proclivity to urine filled establishments. Yeah, return him as if a piece of defective merchandise. Instead of the incredible joyous adorable creature who gives his love endlessly without restraint or judgement, who brightens the darkest winter day, who sleeps next to me when I'm sad or cold and becomes my automatic heater. I can lay him on his back with my arm tucked around him and he'll remain that way for hours, if need be, until enough is enough and he shakes himself off and marches
over to a corner of the bed, careful not to disturb his pal Louie, who is highly latrine trained, but will eat unsuspecting humans of all races and creeds. I'm sure non Bichon owners and for that matter, people who just don't get or understand the gift that is a pet, would think how much of an nitwit I am to keep a destructive animal around. They'd be appalled at the idea of dog urine within a house, disgusted that any human would put up with something like that, live with constantly needing to clean up after him. They just don't get it. That's right–they never got the love from foster dog Charlie, whose older male owner had to give him up, and Charlie momentarily lost, found his heart again by bestowing attention on a bedridden Alzheimer's patient whose last known spoken words were, "here pup, come on up here". And Charlie went up, stayed with my father, and when my father left the earth, sat at the window, seeking his return. He turned his attention to his grieving widow. He is her rock, and she his.
Lucky is a mess. A gorgeous curly wacky mess. But he's our mess, and he'll stay that way, whether he cleans up his act or not.
I'm hoping one of these books can help me.
Books on problem dogs:
Behavior Adjustment Training:BAT For Fear, Frustration, and Aggression in Dogs–Grisha Stewart
Fired Up, Frantic, and Freaked Out: Training the Crazy Dog from Over the Top to Under Control–Laura VanArendonk Baugh
The Misunderstood Dog: Break free of the myths about man's best friend and learn how to train your dog with facts, not fiction–Jordan Rothman
Train Your Dog Positively: Understand Your Dog and Solve Common Behavior Problems Including Separation Anxiety, Excessive Barking, Aggression, Housetraining, Leash Pulling, and More!–Victoria Stilwell
Do over Dogs: Give Your Dog a Second Chance for a First Class Life (Dogwise Training Manual)–Pat Miller–For shelter dogs or rescue dogs
The Power of Positive Dog Training –Pat Miller
The Other End of the Leash: Why We Do What We Do Around Dogs– Patricia B. McConnell