Opening A Bookstore, Relocating Bookstock
I am writing this from Lynnfield, Mass., where I am preparing for my father's funeral. He passed away last week, in the middle of my hectic transfer of the contents of one bookstore to another. His death was no surprise; he had been declining for months and barely alive for the last 10 days. Still, I'd have to say that business seems awfully trivial under such circumstances. Operations are on hold back home, but I can report the following about my big move.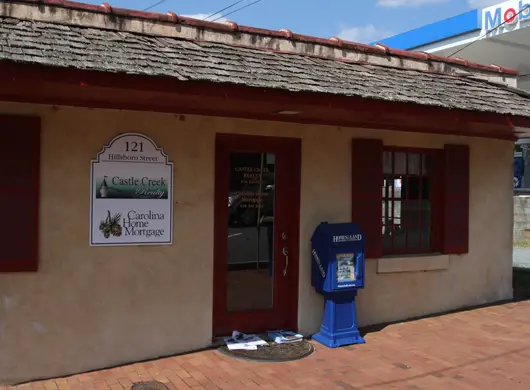 Twenty-thousand books, packed tightly, might fit in 500 boxes. But where does one find 500 boxes? For me, buying them is a most disagreeable option; and even if I wanted to pay U-Haul $1.50 each, they don't have 500 on hand. Your local grocery store, if you get there at the right time, before they crush and bale their boxes, might have 15 or 20. Then there is the liquor store and the drug store. In the end, the best place is the recycling center where every few hours a new supply gets dropped off, cut down flat and left for scavengers to reclaim. Over the course of three days, I assembled an army of 150 boxes, far too few. Perhaps if I had more time I could have collected enough, but I did the best I could.
I really don't know how many books I bought from the going-out-of-business Second Chance Books in Cary, North Carolina. Counting them was the least of my worries, but we estimated 20,000.  I had four days to unshelve them, box them up, load them into a truck, deliver them to a storage unit and pack them away. If I had moved them into my store I would have been buried in boxes for weeks with no room to build shelves or otherwise organize the contours of a bookshop. So into climate controlled storage they went. In all, I moved all the books and 25 seven-foot bookshelves in three truck loads. The first night I unboxed several thousand books into my storage unit so I could reuse the boxes the next day. But I still ran short of boxes. This is why there are fifty or so 30-gallon trash bags piled on top of a mountain of boxes in storage.
I don't want you to think I did this alone: my daughter, my wife and several friends put in long days and the sellers also chipped in to help. Still, after four days of heavy lifting I felt somewhat more open to the benefits of the e-book. At first, I tried to be rigorous in packing the books up in subject and alphabetical order, and careful in labeling the boxes. By the end, I was throwing handfuls of mass market paperbacks into bags, content to sort them out later. The truck rental came in under $200 dollars, the storage space is $159 a month.
The stock is comprised of what you would expect to be left after a three-week going out of business sale – most of the best books were long gone before I got to them. On the other hand, this had been a successful store for many years and they didn't waste too much shelf space on worthless books. There were thousands of mass market books of the type any store needs, but that would have taken me many months of unsatisfying work to assemble: romances, science fiction, thrillers, mysteries, horror, suspense – maybe a third of the total. These are categories I generally do not read, so I had worried I would do a poor job of selecting, had I been buying them in small lots. Buying a starter stock of these relieved me of a prolonged task that I knew would be difficult. The general fiction section had many worthy titles, though whether I'll ever sell enough copies of Cold Mountain, The Memory Keeper's Daughter and Snow Falling on Cedars to exhaust my supply, I doubt. There were no more than several hundred classics and not much poetry. There were many shelves of self help, parenting, health, wellness, spiritual enlightenment; fewer academic subjects such as history, psychology, sociology and anthropology. In short, if this were the entirety of a new bookshop, it would be a pretty poor excuse for a business. But as a foundation, this is a start. And now I can concentrate on buying what I like and what I read, which is literature and history. And baseball. I have more than 800 prized baseball books to start with.
When I get back to the store later this week, I'll start the process of weeding through the stock and organizing the shelves in the store. I haven't decided whether to start pricing as I sort, or wait until I've researched inventory software with the possibility of using a scanner and printing out stickers. I suppose the question is whether to invest in stock or equipment.
And today, I spoke with a book collector who is selling an interesting collection including 150 vintage circus books; next time I hope I'll have more to say about that.